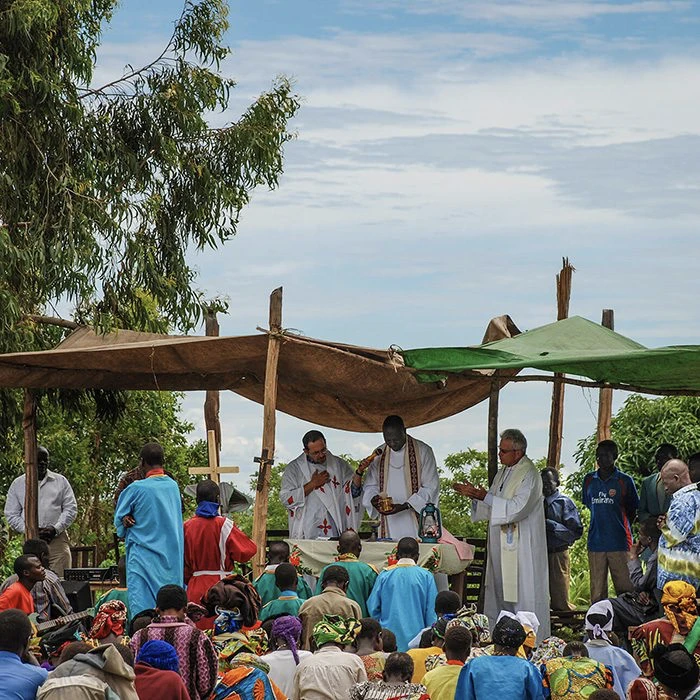 Serving God's People in Africa
since 1868
The Missionaries of Africa are an international Roman Catholic Missionary Society of priests and brothers devoted to witnessing to the Gospel of Jesus Christ in Africa and among Africans, wherever they may be.
Working with local churches, we offer Christ's message of peace, hope and reconciliation that ends division, and love that brings an end to hatred. Once these seeds of faith are planted, we move on to other fields where the Gospel message has not yet been heard.
Education is the biggest factor in changing the economic realities for a developing country. Without educated people, no country or community can achieve or sustain economic development. Education develops people's understanding of themselves and the world around them. It improves the quality of their lives and provides wide-ranging social benefits to individuals, families, and society.
The Missionaries of Africa were founded 150 years ago for the Evangelization of Africa. They continue today to remain faithful to their call to share the life and mission of Jesus, and to give witness to the Gospel in Africa and among Africans wherever they may be.
Bringing Hope to the Sahel: Support Displaced Families
Amidst the vast expanse of the Sahel region, a silent crisis is unfolding, affecting countless families displaced by violence and conflict. Their struggle may not make headlines, but we are here to make sure it doesn't go unnoticed.
Missionaries of Africa meet with Pope Francis at the Vatican. Highlighted projects in include rainwater harvesting and a computer lab.
Father Francis Barnes, MAfr
As a kid, I had heard stories about Damien and the lepers. Those stories didn't prepare me for meeting my first leper on my second day as a missionary in Burkina Faso. It was a shock and it was a startling introduction to the missions. When I was young I thought being a missionary was about converting people, but soon I learned it was about witnessing the Gospel.
To preach… to teach… to heal… to build.
That is what we have been doing since 1868, and with your help today, we are able to keep doing this; spreading the message of hope to our brothers and sisters in Africa who are the poorest of the poor. The Missionaries of Africa in the U.S. has been blest to have many regular contributors. For all those who have been supporters and for new supporters, we were wondering – actually praying, that you will join in our Friends of Hope Monthly Giving Plan.